Items 1 to 2 of 2 on page 1 of 1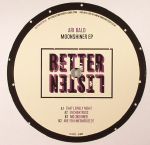 Cat: BLR 006. Rel: 28 Feb 18
Funky/Club House
That Lonely Night (4:54)

Enchantress (5:32)

Moonshiner (7:00)

Are You Mesmerized? (7:11)
Review: Stockholm based Ari Bald is up next for Better Listen after inaugurating Honey Butter Records last year with that great release. He keeps on with that deep disco spirit with these four funky and lo-slung jams. On the A side, we have two ergonomic edits in the form of "That Lonely Night" and "Enchantress" respectively which are looped to perfection with some somewhat familiar hooks that gradually build up to that drop! That's where the thumping kick comes charging in and it's sure geared for maximum dancefloor dynamics. On the flip, get ready for the funk explosion that is "Moonshiner" or what could be your First Choice (mind the pun!) in the form of the smooth and sexy late night groove of "Are You Mesmerized?"
…

Read more
Played by:
Replika (Quintessentials)
,
Fabietto Delgado (Melgado)
,
Jacques Renault
,
Thatmanmonkz (Shadeleaf Music)
,
Javi Frias
,
Dave Allison (Editorial)
,
Superbreak
,
Djchrisrhythm / SUPER MOTION
,
Kisk
,
Mike W - Kolour LTD
,
Sol Power Sound
,
Osmose
,
Tim Zawada
,
Better Listen Records
,
KS French
,
Live Ones
,
80's Child
,
Shaka (KolourLTD, Balance Alliance)
,
HEIGHTS
,
4004
,
The Silver Rider
,
Ari Bald
,
Marcin Krupa
,
Sune
…

Read more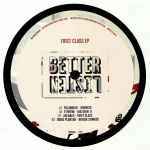 Cat: BLRVA 001. Rel: 18 Apr 18
Deep House
Folamour - "Oneness" (7:45)

Ethyene - "Watchin' U" (6:41)

Ari Bald - "First Class" (6:00)

Dorsi Plantar - "Boogie Sunrise" (6:00)
Review: Coming at you on vibrant pink vinyl, Better Listen's First Class EP more than lives up to its' title. Check, for example, the screaming sax lines, life-affirming orchestral disco loops and bumping bottom end of Folamour's brilliant opener, "Oneness", and the bouncy disco-house positivity of Ari Bald's edit-not-edit "First Class", which is guaranteed to put smiles on faces on out on the dancefloor. Dorsi Plantar successfully tries the same trick on to woozy, ultra-soulful bliss of swirling sunshine shuffler "Boogie Sunrise", while Ethyene's undulating "Watching You" brilliantly wraps eyes-closed synthesizer lines and glistening disco guitars around a leisurely mid-tempo house groove.
…

Read more
Items 1 to 2 of 2 on page 1 of 1