This Week: Breakbeat
Items 1 to 2 of 2 on page 1 of 1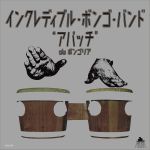 Cat: SOLID 38. Rel: 19 Feb 18
Apache (4:57)

Bongolia (2:16)
Review: A truly historic record from the innovative, forward-thinking mind of Michael Viner enjoys a limited repress on Japanese import Ultra Vybe. Coated with the original Bongo Rock artwork and fully remastered, if this 45" isn't in your collection yet, now is a fine time to fill the hole. Both sides instant party pleasers that have been sampled with respect more times than you've gone record shopping. This record will never die.
…

Read more
Cat: XIN 001. Rel: 19 Feb 18
Velocity (6:48)

Xenon (5:09)

Helium (7:04)

Exoplanet (2:44)
Review: We're all about new artists coming through on their own imprints, so Ludwig A.F. Rohrscheid's debut, the glorious Velocity, is very much welcome on our charts. The title tune itself is a brilliant bric-a-brac blend of broken d&b in the same tone as PLO man, and of LTJ Bukem before him, which makes for a fine addition to any dance set; "Xenon" closes the A-side with a bouncy, full-bodied house bass driven and charged by a rusty analogue beat with a sublime swing. "Helium" is more of a hands-down dancefloor attacker, looping constantly to the sounds of a distant flute, and "Exoplanet" plays with a similar swarm of sounds, twisting and lopping them endlessly amid a void of beats. Nice touch.
…

Read more
Items 1 to 2 of 2 on page 1 of 1