Items 1 to 3 of 3 on page 1 of 1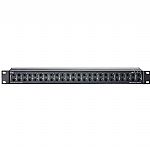 Cat: 515499 Rel: 10 Dec 13
19" rackmount balanced patchbay for studio or live use
Notes: The ART P48 48 point balanced patchbay is the best solution for organising cables while optimising connectivity in any studio or live PA rack. Designed for maximum convenience, each pair of TRS 1/4" balanced I/O can be configured for normal or half normal operation.

The fully shielded steel 19" 1U rackmount chassis has reversible rack ears for maximum flexibility.
…

Read more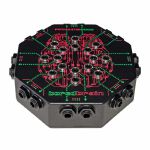 Cat: 686107 Rel: 16 May 18
8-channel mini patchbay
Notes: Is your pedalboard brain-dead? The Patchulator 8000 pedalboard patchbay provides a tangle-free way to change the order of your effects to create new tones using little to no brainpower! With the provided mini cables, just patch signal from your guitar or bass into (and out of) each effect, then back out to your amp or mixer. Invent new and interesting sounds while your synapses are firing, simply by rearranging the sequence of effects! All your gear and cabling stays put. Oh, and any effect not patched is "truly" bypassed... Genius!

In the world of electronic music, the Patchulator 8000 desktop patchbay becomes a powerful nerve centre for your instruments, allowing you to share and swap effects all around your setup, without needing to solve a brainteaser. Just connect your keyboards, synthesizers, samplers, drum machines (or any sound source) to a few channels, then fill the other channels with your effects' ins and outs. Using the mini patch cables, you can then route any of the effects into and out of the signal path of any instrument, just like a real patch bay! Hmmm... what will you mastermind?

In the world of modular synthesizers, the Patchulator 8000 is the brainstem between your modules and outboard gear, since it uses both standard and mini phono plugs. So if your brain tissue needs some electro-stimulation, simply inject control voltages and audio signals directly from your modular into effects units and chains. Better yet, use two Patchulator 8000s and seriously expand your cranial capacity! Whatever it is that you can brainstorm - guitar pedals and studio effects, synths and samplers, grooveboxes and drum machines, modulars and modulation signals, mixers and recording interfaces - the Patchulator 8000 allows it all to interconnect.

Package contents:

- Patchulator 8000 unit
- Set of 8 mini patch cables
- Set of 4 rubber stick-on feet
- User guide
…

Read more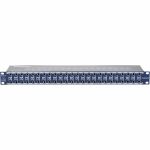 Cat: 624099 Rel: 19 Dec 16
Fully balanced 48-point patchbay with 1/4" TRS connectors
Notes: The Samson S Patch Plus features high quality miniature toggle switches allowing each channel to be configured for either Normalled, Half-Normalled or Thru operation. The S-Patch Plus will provide reliable operation while maintaining a clean signal path with it's solid construction, 48 1/4" phone plugs on the front and 48 1/4" phone plugs on the rear.

You can instantly change any channels configuration without the need to remove the unit from the rack as the mini-toggle switches are conveniently located on the front panel. S-Patch Plus is one of the best entry level patch bays on the market. It helps you work cleaner and faster allowing you to focus on making a better production - a great value for money product for the small home studio owner.


…

Read more
More than 10 in stock
$100.82
Items 1 to 3 of 3 on page 1 of 1