Options
Sort Artist

Bestseller: Artist: Title: Brand: Date: Price:
Items 1 to 2 of 2 on page 1 of 1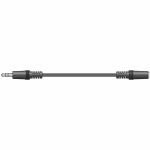 Cat: 595062 Rel: 30 Nov 15
Stereo 3.5mm mini-jack socket to stereo 3.5mm mini-jack plug extension cable - 6m
Notes: Standard 3.5mm stereo plug to 3.5mm stereo socket lead, ideal for extension purposes on the majority of modern audio devices and PCs.
…

Read more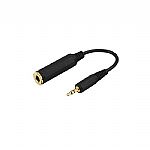 Cat: 411765 Rel: 13 Dec 10
(6.3mm) stereo jack socket to (3.5mm) mini jack plug, 19.5cm in length and features gold-plated connectors. Suitable for connecting headphones to a portable multimedia player
Notes: This cable adapter is designed for connecting headphones with 6.3mm stereo plug to a portable multimedia player like an iPod.

This black plug is 19.5cm long and comes with gold-plated connectors.




…

Read more
Items 1 to 2 of 2 on page 1 of 1