Artists
Items 1 to 2 of 2 on page 1 of 1
Cat: DE 191. Rel: 11 Dec 17
Coldwave/Synth
Red Axes - "5 Min" (feat CAR) (4:22)

Red Axes - "Nyx Tape" (feat Gina X) (6:47)

Solid Space - "Destination Moon" (Red Axes edit) (5:37)

X Ray Pop - "La Machine A Rever" (Red Axes edit) (5:08)
Review: There's much to admire on this latest 12" excursion from hard-working Israeli duo Red Axes. On the A-side you'll find two brand new collaborations, the most notable of which is "NYX Tape" - a clandestine, mind-altering chunk of minimal wave drug-chug featuring the distinctive spoken word vocals of original no wave star Gina X (she of "No GDM" fame). Chloe Raunet AKA C.A.R lends her similarly stylish spoken word vocals to the EP's other original production, the acid-fired electro filthiness that is "5 Min". On the flipside you'll find two tasty re-edits of tracks from the Dark Entries catalogue: a dub-tinged, dancefloor-friendly take on Solid Moon's spacey "Destination Moon" and a rolling, club-ready tweak of X-Ray Pop's quirky electronic bubbler "La Machine a Rever".
…

Read more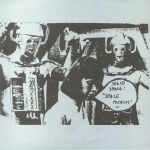 Cat: DE 190. Rel: 25 Dec 17
Coldwave/Synth
Afghan Dance (1:30)

Spectrum Is Green (3:11)

Destination Moon (2:41)

The Guests (1:58)

New Statue (5:44)

A Darkness In My Soul (3:52)

Radio France (2:17)

Tenth Planet (2:52)

Earthshock (1:36)

Contemplation (3:22)

Please Don't Fade Away... (1:33)

Tutti Lo Sanno (3:23)

Platform 6 (3:18)
Review: Amongst collectors of post-punk era cassettes, Solid Space's sole album, 1982's Space Museum, has long been a sought-after item. While scarce and hard to find, the demand is largely down to the music contained within. Combining bright and spacey synthesizers with cheap drum machines, fuzzy guitars and vocals musing on science fiction and isolation, British DIY musicians Matthew Vosburgh and Dan Goldstein (previously both of of Exhibit A) created something surprisingly magical and alluring despite its lo-fi creation. For proof, check this first ever vinyl edition from Dark Entries, which thrillingly also contains two previously unreleased cuts from the duo's archives.
…

Read more
Items 1 to 2 of 2 on page 1 of 1